Why Turbo?
JEEP WRANGLER
TURBO KITS
Prodigy Performance is the leader in Jeep Performance. We are not a huge company, we are a 5-man army of industry professionals that know our stuff. We proudly hold the All of the World Records for Horsepower and Torque for
EVERY
vehicle we support. That's a big statement. Let's run through the milestones. Here is where it all began for us. This is our project Jeep way back in late 2007. It's our first of many JK Unlimiteds. Hundreds of hours and thousands of miles of development, testing and refinement. This Jeep was the beta test vehicle for not only Prodigy Performance but also for HP Tuner's tuning platform. Still turbocharged and going strong over a decade later.
Here we have our 2011 Wrangler taking the title of the World's First JK Wrangler over 300 rear wheel HP. It made 329 rear wheel horsepower with just our bolt on turbo system and the stock 3.8L engine! Check out the action below.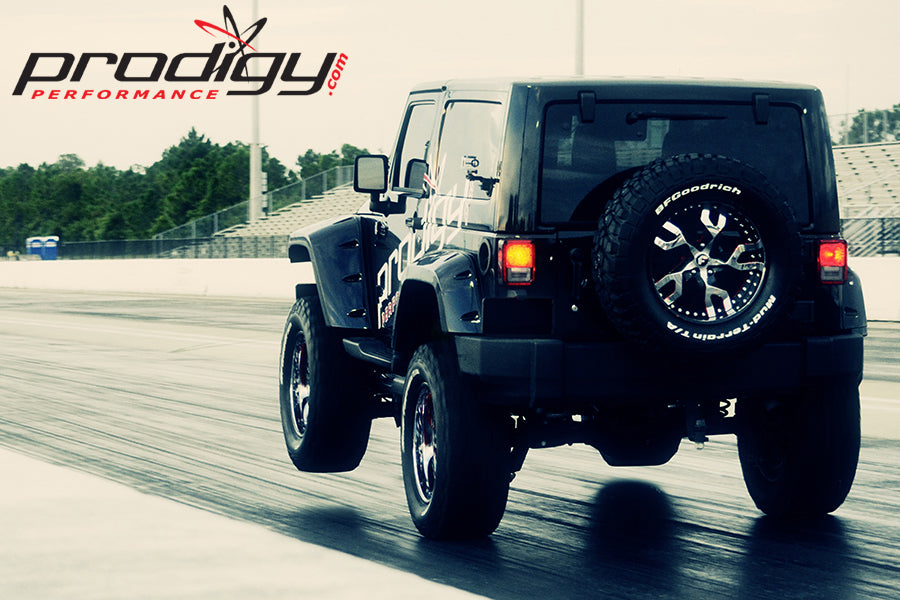 Up next, the First JK Wrangler over 400 rear wheel horsepower! This was using the new engine platform, the 3.6L Pentastar. Again, all stock with nothing but our bolt on turbo kit. We call this Jeep Lil'Red and she's still running strong after 6 years of thrashing. Check out the videos of Lil'Red in action.
Today we are at it again with even more power. What's next? You guessed it, First JK Wrangler over 500 rear wheel horsepower! Check out the new Prodigy Turbo Jeep laying down big reliable power. It's fully loaded with a long arm suspension, lockers and just about every accessory you would want.
We believe in HUGE power gains not wimpy power adders. "We're not budget we're Badass." We wouldn't pay $5,000 for 50 HP and you shouldn't either. At Prodigy Performance quality and power is everything.
So how do we it? What's our secret? It's simple. We are the only forced induction system on the market that utilizes a turbocharger. Turbocharging is hands down the most efficient power adder on the planet. The turbocharger utilizes the vehicle's wasted exhaust gas to spin. It's almost free. Unlike superchargers, where the engine physically spins the supercharger. Superchargers take power to make power. Turbocharging is the number 1 choice for almost all manufacturers today. Here is a video that demonstrates how a turbo works. We have been turbocharging the Jeep JK Wrangler for more than 10 years and are considered the Ultimate Jeep Accessory. We currently have turbo systems in 19 Countries and continue to strive to be the best. Special thank you to all of our customers and affiliates. We are truly blessed. Ok, so now you know a little about us. What does this mean for you? You're probably not reading this because you want to build a race Jeep right? You most likely bought a Jeep and heavily modified it with all the popular Jeep accessories from big wheels, tires, bumpers, stereo lights etc. and now you're driving it and… it's terrible. It won't get out of its own way around town and when it comes to driving on the highway you might as well stay in the right lane and get use to 60 mph. So, you need to solve this problem. We have what you are looking for. Our turbo system is COMPLETE. Meaning, we did all the work for you and it has everything you need to safely add big power to your Jeep. BIG power, REALLY BIG POWER like 150 HP! And the good news is it can be done in 1-2 days. That's it. Your Jeep will not only be a breeze around town but it will blaze down the highway at whatever speed you choose.
Our turbo systems are not built to order. We can typically ship you your lack of power solution the same day you order it. Let's run through what's in the boxes and
discover why our product is more expensive than the so-called competitors
. You get what you pay for with ZERO compromise.
Box 1 – The Precision Turbo. It's the Pinnacle of Turbochargers.
Box 2 – All the Goodies
1. The Pipes
100% CNC Mandrel bent for maximum flow. Mandrel bending is an expensive process of tube bending where the tube is bent and maintains the inner dimension throughout the bend for maximum flow. Click Here to see mandrel bending in action.
304 Stainless Steel construction. Not your average exhaust tubing. One look and you'll know the quality of these parts. Even the flanges are stainless. Built to last construction that screams quality.
TIG Welded - TIG welding is a slow welding process. We chose to use this process because it performs the best with 304 Stainless Steel and looks like jewelry. Click here to see some Weld Porn
Back purged - So they're welded on the inside just as nicely as on the outside. We fill the inside of the tubing with Argon so the weld is shielded from impurities on the backside. Take a look, it's all about the details. The ones you can see and the ones you can't. Click here to learn more about back purging.
2. The Intercooler
All Aluminum, TIG welded, low pressure drop and real Efficient
True bolt in design integrated to the intercooler
Standard size – No Optional sizes, it was designed for this particular application
Coated to keep a long-lasting finish
3.The Wastegate
Genuine Tial Wastegate
Regulates the boost pressure
Preset here at Prodigy Performance
This component gives us a HUGE advantage at any elevation. By utilizing a wastegate your Jeep will make sea level power at high elevation.
4. The Blow off Valve
Genuine Tial Blow off Valve to vent the air pressure when you release the throttle pedal
This is the noise maker. Not too loud, just enough to catch your attention
5. The Air Filter
Genuine K&N Air Filter, No eBay knock offs – No China made private label junk. Simply the best of the best.
6.The Turbo Cover
Our Genuine Carbon Fiber turbo cover prevents excessive heat from radiating to other components under the hood, reduces turbo spool time and looks awesome.
7. The Silicone Hoses
Full Custom Direct fit 4 ply silicone hoses in black of course so they look like factory not aftermarket toys
8.The Fuel Injectors
Precision Matched Fuel Injectors exclusively made for Prodigy Performance by Fuel Injector Clinic. Fuel delivery per cylinder is critical when making big power. The engine computer can trim fuel per bank but not per cylinder. NO matched = NO Good
Direct Plug and Play – no extensions, no trimming, direct replacement
Will support additional power
E85 Compatible
9. The Transmission Cooler
Genuine Flex-a-Lite Transmission Cooler to maintain transmission fluid temperature
Hoses attach with #6 AN fittings not push-on hoses with worm gear hose clamps
10. The Charge Pipe
Mandrel Bent
TIG Welded Tial Blow off valve flange
Bead rolled so the hoses stay attached
Polished of Course
10. The MAP Sensor and Adapter
Genuine Mopar 3 Bar MAP Sensor – Why compromise with a low quality private label when you can have the best from the start? After all this is one of the most critical sensors for the engine. Consistent with zero failures
11. The HpTuners MPVI-2
Genuine HpTuners State of the Art Data Transfer Device
Use with VCM Scaner
Use with VCM Editor
Genuine Prodigy Tune Provided
Proudly All tuning done in house on our dyno by Prodigy
12. The Oil Feed Line
Stainless Steel Braided
Black Covered to eliminate abrasion on other components
13. The Coolant Reservoir
Plastic Molded
Installs in Factory location
14. The Intercooler Clamps
Fully Banded
Stainless Steel
Sized Correctly - No extra tails
15. Plug and Play O2 Extensions
16. The Hoses and Hardware
Genuine Continental Covered Hoses
All Black AN Fittings
Zinc Plated and Stainless Hardware
17. The Installation Manual
Fully Color
Printed and Bound
Installation
We recommend professional installation however, 60% of our turbo systems are installed by the end user.
Click Here
to view the completed PDF of the included installation manual.
Would you rather watch an installation video? Well, we got you covered.
What should you expect?
Here is a recent full installation. The Jeep is a 2015 Wrangler JK Unlimited. 37" tires stock gears, engine and drivetrain. Same dyno, same weather. The only thing that was added was our Prodigy Turbo System. Nothing Else. Please contact us if you have any questions. We can be reached Toll Free at 855 TURBOJEEP, Join the Turbo Revolution Today! GO BIG, GO TURBO
Testimonials
"It's amazing, best thing I ever did to my jeep! It was a blast to install too. My jeep now has so much raw power, but with the prodigy performance kit the power for my jeep couldn't be more perfect and refined. It blows the doors off of any supercharger. Hands down the best in the business!" Brandon T.
"From the time I sent an email to get information about the kit to the final tuning of my Jeep, the experience was 1st class. I called numerous times during the install to ask questions and always got my questions answered. Huge help along the way. Very high-quality parts and service. Great product and my Jeep rips, smokes my wife's Denali with the 6.2 ha ha!!!!"
Steve G.
"Gotta hand it to the guys at Prodigy for A. making an incredible turbo with mind blowing power and B. offering outstanding customer service! I had a supercharger before this and it is no comparison! Even managed 20 mpg's on a recent trip! Highly recommend!!"
Brian C.
"Hands down to the best Pentastar performance upgrade. Been running my turbo wrangler HARD with ZERO issues. No Overheating no Heat soaking like the whiny supercharger guys are facing. When they say high quality product they mean exactly that. The best customer service even for customers on the other side of the planet. They will not rest until you have resolved your issue and that's IF you have one. Only because of Prodigy we will soon access power levels we could only dream of in the past. KUDOS to the Prodigy Performance dream team!"
Khalid Al Q.
Orders can be placed online, over the phone or in person at our location in Wellington FL. Yes, Dealers are Welcome.